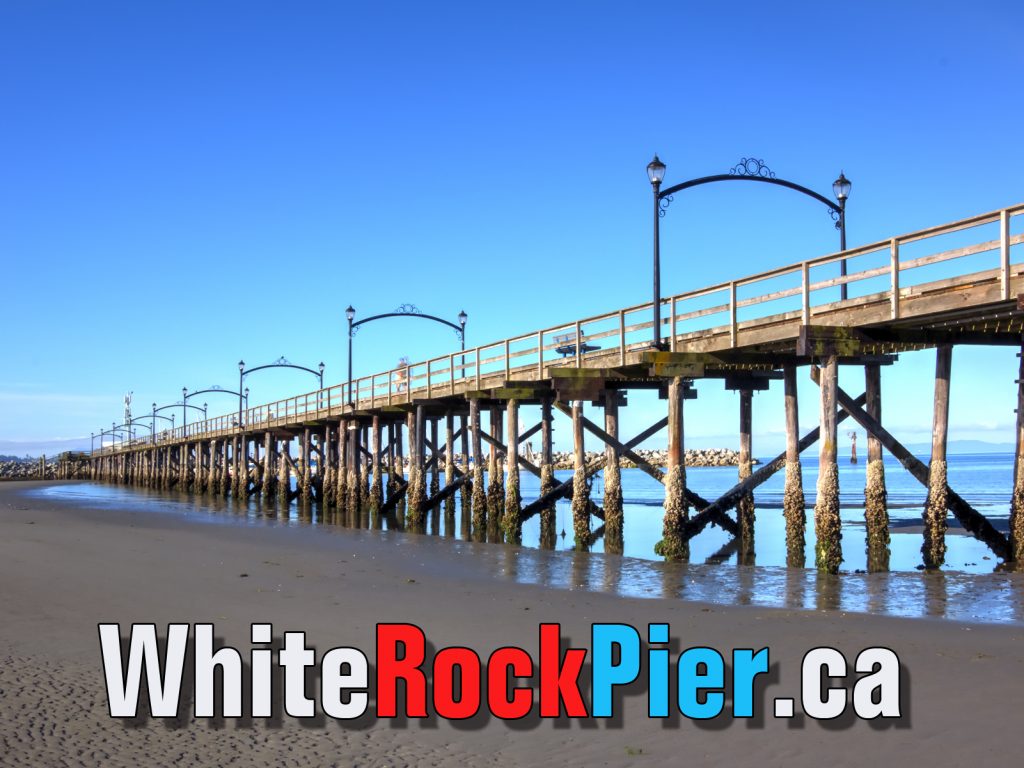 ACRYLIC Prints – CANVAS Prints – FRAMED Prints – POSTER Prints – PHOTO Prints – LARGEST SELECTION OF WHITE ROCK – Postcards – Greeting Cards – MAGNETS. Come and meet Mr White Rock – AKA Ric Wallace . . . . .
History of the White Rock Pier
The original version of the pier was built in 1912 and resembled nothing more than a floating dock about 300 feet in length. It was destroyed by winter storms in 1913.
In 1914 the pier was rebuilt with an eye to making it an international port. Although it was completed in August of that year, the onset of the First World War pushed the official opening back to November 14, 1914.
The pier, now about 800 feet long, was granted a federal government approved extension in 1915 to 1542 ft.
The pier fell into disrepair several times over the years, often requiring government funding and community fundraising to restore it.
The constant battering by storms and subsequent damage finally led to the completion in 1953 of a permanent rock breakwater at the end of the pier.
The pier almost caught fire a few times due to the proximity of nearby burning buildings and the fact that the pier was made of wood.
In the 1940s & 1950s, the White Rock Pier was home to the Dolphin Restaurant. Around the same time, cars were allowed, leading to teenagers holding drag races on the pier, further damaging the structure.
In 1976 the Federal Department of Transportation ceased responsibility for the repair and maintenance of the pier. Since then the City of White Rock has maintained it as a major tourist and recreation attraction.
December 20, 2018 the Storm of the Century, with the equivalent of Category One hurricane force winds and damaging waves, ripped the sailboats from their moorings and forced them under and up through the pier, taking out a large midsection. A stranded pedestrian also required a Coast Guard rescue.
The rebuilding of the pier is expected to take several months and several million dollars.
6″ x 8″ Photo Prints have a 5″x7″ Image & Text

Mr White Rock And The White Rock Beach Goodwill Ambassadors
White Rock, BC – Artist Walk participant and self-proclaimed "ARTographer" Ric Wallace can be seen frequently at his outdoor gallery this summer, weather and time permitting, along the White Rock Beach waterfront just west of the museum. His unending promotion of White Rock through his more than 80 postcards, greeting cards, magnets, and online using WhiteRockBeach.ca led to fellow artist Gary Nay dubbing him "Mr. White Rock." While others have jokingly referred to Ric this way, Gary noticed that most of the search engine results for White Rock Beach were tied to Ric's online presence, and with the domain MrWhiteRock.com available, in just a few clicks of the mouse, Wallace snapped up the domain and clinched the title. (The title of Mr White Rock was not bestowed by the city; it was simply achieved by registering a domain.)
Wallace's enthusiastic cheer leading for his new home – he arrived here four years ago from Ontario – now includes an addition to his extensive product line: a commemorative White Rock Beach Lucky Coin® with the 486-ton white rock featured on one side. Dr John Rogers of White Rock Dental Centre and Dinesh Chowhan of White Rock Pharmacy both loved the White Rock Lucky Coin® idea and helped sponsor some of the costs to make it a reality. In turn, White Rock Pharmacy was the first White Rock Beach Lucky Coin® retailer in British Columbia.

It's not just his own ideas he pushes; Ric also likes to promote other White Rock businesses and people, as well as his fellow Artist Walk colleagues on his own WhiteRockBeach.ca website. While some question why a photographer would promote his competition, Ric realizes that doing so takes nothing away from his own personal efforts, but might just help another achieve some degree of additional success. Fellow artist Gary Nay and two local waterfront musicians, for example, were recently featured in separate segments on go! West Coast TV on Shaw TV thanks to a tip provided by Wallace.
Ric and his White Rock Beach postcards, greeting cards and magnets were as featured on go! Vancouver (Shaw TV) July 15, 2014 and on the Discovery Family Channel (USA) in May 2015. Ric has also put a couple of local authors and artists in touch with retailers he personally deals with who might be interested in carrying their work.
Wallace's passion for his newly adopted home also shows in his creation of the White Rock Beach Goodwill Ambassador program. He photographs White Rock Beach visitors holding his White Rock postcards and then displays these images in a gallery on his website. He also asks people to share White Rock by taking the postcards with them on their travels. His own dentist, Dr John Rogers of White Rock Dental Centre, has done just that, spreading White Rock goodwill in visits to Kenya and Japan, with people from these countries displayed on the WhiteRockBeach.ca website holding the postcards. If people don't have the money for travel, they can still share White Rock by mailing the postcards to friends and family. People around the world who receive our postcards or greeting cards are encouraged to send a photo of them holding our products, and we will add to our online gallery.
While Ric tries to spend as many pleasant days as possible at his outdoor gallery, if you miss him along the waterfront and would like to see some samples of his work, visit Save On Foods White Rock & South Point, Whitby's Books, Buy-Low Foods, Mossy's Beach Mart, Seaside Market, and any of the many other retailers listed on WhiteRockBeach.ca. Plus, you can visit his uptown gallery on display at White Rock Pharmacy on George Street. There you can view canvas mounted photographs ranging in size from 16″ x 20″ up to 30″ x 60″. There's no shortage of locations for obtaining your own piece of White Rock to take home with you. Of course, you can always visit WhiteRockBeach.ca – it's the hub that connects everything together.
2019 UPDATE: Buy-Low Foods, Mossy's Beach Mart, Seaside Market are all CLOSED – OUT OF BUSINESS
###
For more information, please contact:
Ric Wallace Ph: 604-259-0105
Twitter Accounts:
@BCwhiterock , @MrWhiteRockBC , @WhiteRockZone , @VirtualEdgeCA